Technische support / Technical support
- Voor vragen over het biedsysteem, of technische support bij bijvoorbeeld het aanvragen van een registratienummer of overige vragen, kunt u contact opnemen met: Tel. 06-43985150 - Email. info@eurogenes.nl
- For questions about the bid system, technical support with the request of a bidnumber, or any other questions, you can contact: Tel. +31 (0)643985150 - Email. info@eurogenes.nl
1) REGISTRATION
--> Register yourself with your personal information to receive a bidnumber and password
--> To register yourself, CLICK HERE
--> If you lost your password, CLICK HERE
--> After your fulfilled the registration proces, you will receive an email. Click in the mail on the confirmation link to finalize the registration.

Technical support: Don't hesitate to contact us for any technical support to help you in the registration proces.
Contact: Tel. +31 (0)6 43985150 - Email. info@eurogenes.nl


2) LOG IN
--> You can log in to the sale website with your Bidnumber & Password
--> After you are logged in you are aloud to see the prices and to place your bids
3) BIDDING PROCES | TAG+ SALE
--> Each lot has a "Start Price" and a TAG+ "Buy Now" price
--> The sale will run by the system of higher offer / upgoing bids
--> A bidder has the option to buy the lot at any moment for the "Buy Now" price. As soon the lot sold for the "Buy Now" price the lot will be closed

Note: As soon somebody buys a lot for the "Buy Now" price, this item will not available anymore for others to buy.
Bid Increments
Below are the minimum overbid prices in the different price ranges. These increments will also be used with the proxy bid method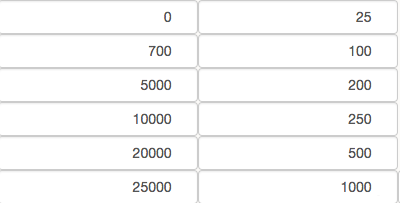 Popcorn Clock Extension
For some items, if a bid is received during the final "8" minutes, the clock may automatically be extended by that many minutes. The lot will be closed only once the clock has run out, without any more bids being placed. This is called "popcorn bidding". It is done to prevent last-second sniping and allow all users a chance to place a fair bid.